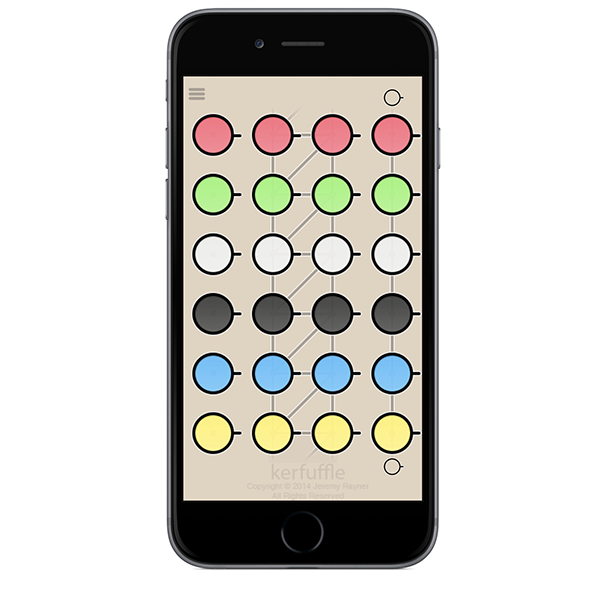 Jeremy Rayner's Kerfuffle is now available for iPhone®, iPad®, iPod touch®
Kerfuffle is a fun puzzle game designed and developed by Jeremy Rayner.
Aim: You need to complete every row with matching colours.
The puzzle starts in the solved state, and you have to scramble it up and then solve it yourself.
Kerfuffle will remember where you got to each time you start playing, so you can take your time if you like.
Kerfuffle comes with two puzzles built in, one is a bit harder than the other because you have to also ensure that the pieces are all rotated in the same direction.
As you put your finger on a piece, the game will indicate available moves. Simply swipe the piece to where you want it to go.
The tricky part is that whenever you move one piece a few others will move as well!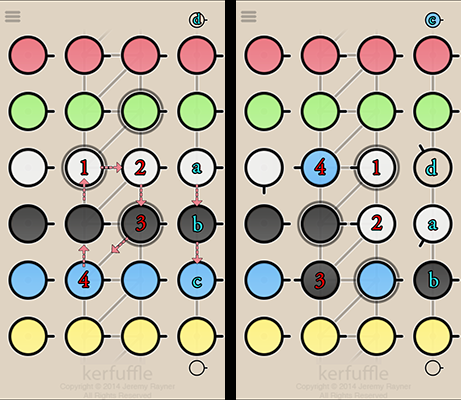 If you watch carefully, you can see how each piece moves along the grid underneath, and you can always move the piece in the opposite direction to undo your move.
Combine sequences of moves together to make small, predictable and useful changes to the puzzle.

Try this game and have fun!
Please email any questions about Jeremy Rayner's Kerfuffle to